Misfits Market vs. Imperfect Foods
An Ugly Produce Face-Off
It's tough to measure up to conventional beauty standards — especially, it turns out, if you're a potato. Or a mango. Or pretty much any fruit or vegetable. Because if you're a runt-of-the-crop cabbage or celery root that looks a little too much like an alien, the grocery stores won't stock you. And yes, a huge amount of food waste — up to around 40%, according to a recent Forbes article — can be attributed to the fruits and vegetables that supermarkets won't put on their shelves because of perceived defects. This is why companies like Imperfect Foods and Misfits Market have cropped up. These are only two of the bigger players in a list of startups that are aiming to curb food waste by offering customers the produce that grocery stores reject. We ordered from both sites for a few weeks to see what each has to offer, how they differ, and so on. 
What They Offer: Misfits Market
Based in Philadelphia and founded in 2018, Misfits Market offers organic-only produce sourced from "hand-picked farms and food hubs across the Americas," as well as some items, such as citrus and avocados, sourced from "outside the country to offer more variety in your box." You can also order add-on products like snacks, beverages, pantry staples, and more. For a clearer idea of the types and variety of produce offered by Misfits Market at any given time, visit their website.
What They Offer: Imperfect Foods
Founded in 2015, this San Francisco-based company was one of the forerunners of the ugly produce market. It has a larger selection of grocery items than Misfits Market, including meat and seafood, a wide selection of plant-based foods, eggs and dairy, household and beauty products, and more. Unlike Misfits Market, not all of the produce from Imperfect Foods is organic. The company sources the majority of its produce from California (which also happens to be where "80% of the fresh produce in the U.S. is grown," according to the company's FAQs section. 
Related: Online Grocery Delivery Comparison: Is One of These Services Right for You?
The Sign-Up Process + Pricing: Misfits Market
Misfits Market currently offers Mischief ($22) or Madness ($35) boxes of fruits and vegetables that can be delivered every week to every other week. Mischief boxes contain a mix of 12 different types of fruits and vegetables, while Madness boxes will have 14 types, and the quantity is more as well with a Madness box. The company, however, will soon be changing this policy, although the timing is still unclear (keeping reading to find out more). Customers can choose their preferred delivery day, as well as if they'd like to have their orders delivered on even or odd weeks (if choosing to have biweekly deliveries). You can also skip orders at any time and even donate an order instead of skipping it. 
For more great shopping guides and grocery tips, please sign up for our free newsletters.
The Sign-Up Process + Pricing: Imperfect Foods
At Imperfect Foods customers start by filling out a questionnaire. You answer simple questions about how many people live with you, dietary preferences, if you have an organic or regular produce preference, and so on. After that you choose your grocery "plan," which includes a few options: Regular Produce ($22), Plant Pack, Dairy Pack, Snack Pack, Meat & Fish Pack, and Grains Pack. You can choose any or all of these, and add-on "packs" range from $7 to $10 per shipment. Imperfect Foods chooses your delivery day for you, and it's easy to skip orders here, too. Sign up for Imperfect Foods here.
Ordering From Both Companies
Both Imperfect Foods and Misfits Market offer customers a shopping window of around three days during which time they can choose the types of produce and any add-ons they want. You'll receive both text and email notifications to let you know when that window opens, as well as reminder notifications. The window is typically from Friday or Saturday until midday Monday.
Choosing Your Groceries: Imperfect Foods
Once your window opens, you log onto the site to choose the specific produce and grocery items you want. Your cart will be pre-filled with items the service has chosen for you, but it's fairly easy to add and replace what you don't want. If you don't customize your order, Imperfect Foods will ship you the items it has pre-populated your cart with regardless. 
Choosing Your Groceries: Misfits Market
While Misfits used to operate a lot like Imperfect, they changed the ordering process while we were reporting this story, giving some customers "early access to the new and improved way to shop at Misfits Market" — a policy change we're sure they'll soon roll out to all customers. The biggest changes seem to be that the company is doing away with Mischief and Madness box options — letting customers fill their grocery boxes with any items they want (including non-produce items), as long as they fulfill a minimum order of $30 — and that if you don't log on to customize your items, Misfits Market will automatically skip that order. The company has also noted that "in the near future, we'll be adding more categories to our offering so you can get everything you need from Misfits Market and make trips to the grocery store a thing of the past," so we expect to soon see an expanded offering that competes better with Imperfect Foods. You can read more about these policy changes here.
Delivery + Fees: Misfits Market
Misfits Market delivers to 38 states and Washington, D.C. To find out if the service delivers in your area, you can check here. Shipping is a flat rate of $5.50 to all locations in the company's delivery areas.
Delivery + Fees: Imperfect Foods
Imperfect Foods delivers to "most of the West South Central region, Midwest, Northeast and all along the West Coast," although the most current information from the company appears to be somewhat out of date. For example, groceries for the purposes of reporting this story were delivered to Colorado, which isn't currently listed as an available area on the website. As the company notes, they're "expanding quickly." You can find out if they deliver to your area here. Delivery fees at Imperfect Foods range from $4.99 to $8.99.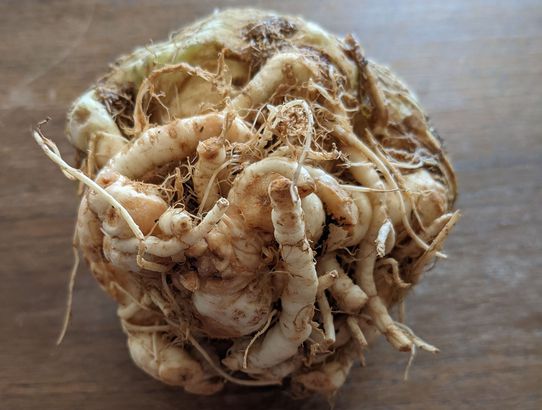 The 'Ugly' Element
So, is the produce coming from these companies really that "ugly?" Actually, rarely (although, yes, there was a celery root that my husband nicknamed Cthulhu because it was rather, um, gnarly-looking). More often than not, it seemed to be the size of the produce that deemed it grocery store-unworthy. For instance, we got a red cabbage from one service that we mistook for a red onion at first because it was so small. Then again, when I buy cabbage from the grocery store, I rarely use the whole head before it starts to go south and I have to toss a hunk of it in the trash or compost bin. On the flip side, we received some mangos that were so small that my mango-loving youngest son and I argued over who would get to eat them. On a week when I didn't have time to customize my order, we received an absolutely massive papaya that ended up spoiling on our countertop because no one in my family likes papaya.
Quality of Produce
In terms of quality, I had few complaints or concerns when it came to both companies. I will say that my teenage sons commented positively on the flavor of some of the organic vegetables we received from Misfits Market, and I agree that the produce we received from both companies seemed fresher than what you can find in the supermarket. No such comments were forthcoming about Imperfect Foods, but deliveries from that service also came later (they didn't start delivering to my area until April), so it's possible that by then my kids were just used to more flavorful veggies.
Forced Creativity and Trying New Things
If anything, whether you are able to make your own choices during the shopping window or not, you might just have to get more creative in the kitchen than you would if you'd carefully chosen everything yourself from the supermarket. For instance, in order to make enough roasted veggies to feed my whole family, I had to combine a few different types of vegetables, including beets, which at some point in my life I'd decided I hated. Turns out I don't hate beets that much. One of my Imperfect Foods orders included two different types of squash, which I rarely cook. I roasted both for our Easter dinner, and they were delicious, so I know I'll be cooking with more squash in the future. 
I didn't have many issues with either company, so I didn't get a lot of interaction with each company's customer service, but Imperfect Foods had some nice touches that I'll mention here because they seem to go the extra mile. For example, my first Imperfect Foods order had to be delayed by a week, and the company sent a thoughtful email including a line about keeping "future 180s limited to skateboarding." When I got the order the next week, there was a sweetly-worded postcard as well as a small bouquet of Gerbera daisies that I didn't order. Finally, when I canceled both services recently — due to a refrigerator issue and not because of my satisfaction with either company — someone from Imperfect reached out to me to find out what they might have done wrong. These are nice touches.  
Packaging
Almost everything that each company uses in its boxes (including the boxes themselves) is compostable. I would probably give the slight edge to Misfits Market here because Imperfect Foods sometimes includes one of those silver bubble thermal envelopes for items — although technically recyclable, it just didn't always seem like it was necessary (the company has since announced that they will collect and recycle the silver insulated liners, along with freezer gel packs). Also, while both companies use around the same size box, Misfits Market's shipments usually made better use of that space, while one shipment I got from Imperfect Foods could have likely been shipped in a box about half the size or smaller. 
The Verdict?
If I'm being honest, I kind of fell in love with both companies. If I absolutely had to choose between them, I'd probably go with Misfits Market because it offers bi-weekly delivery, will auto-skip a delivery if I don't get around to choosing my order during the shopping window, and sells organic-only produce. But the choice between the two really comes down to personal preference and which company's policies and selection fit your household and lifestyle best. You really can't go wrong with either if you don't mind a little less than classically beautiful produce in your life.